Male Actors X-Z
On this page is my collection of autographs of Male Actors who's last name starts with an X, Y or Z.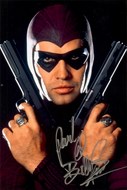 Billy Zane
Billy Zane is seen in this picture as Kit Walker/The Phantom from the 1996 movie "The Phantom".
Billy is most famous for his role as Caledon 'Cal' Hockley in the film "Titanic".
I got to meet Mark at the 2014 Phoenix Comicon.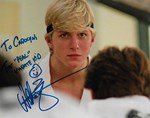 William Zabka
William Zabka is best know for his role in the movies "The Karate Kid" and "The Karate Kid, Part II". Most recently he has appeared as himself on the hit TV show "How I Met Your Mother".
This autograph is actually not part of my collection. I got it for a friend whose wife is a big fan.