Male Actors S-U
On this page is my collection of autographs of Male Actors who's last name starts with an S, T or U.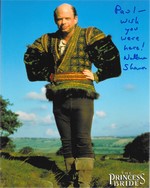 Wallace Shawn
Wallace Shawn is a character actor best known for his roles in movies like 'The Princess Bride', 'Toy Story', 'Clueless', and 'Eureka' just to name a very few..
My friend Mark got Wallace's autograph for me at the MegaCon Tampa Bay.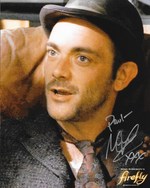 Mark Sheppard
Mark Sheppard seen in this picture as Badger from the TV show "Firefly".
Besides "Firefly", Mark has done many recurring roles on such shows as "24", "Battlestar Galactica", "Leverage", "Warehouse 13" and "Supernatural", just to name a few..
I got to meet Mark at the 2014 Phoenix Comicon.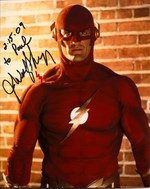 John Wesley Shipp
John Wesley Shipp is pictured here as his most famous role of Barry Allen/The Flash from the TV show "The Flash" which ran from 1990 to 1991. In 2014 John will be in the new "Flash" TV series as Henry Allen the father of Barry Allen/The Flash.
I got to meet John at the Hollywood Collectors Show in Hollywood, Ca.