Male Actors P-R
On this page is my collection of autographs of Male Actors who's last name starts with an P, Q or R.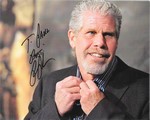 Ron Perlman
Ron Perlman is a veteran of film, television and animated voice work. He is most noted for "Beauty and the Beast", "Hellboy" and "Sons of Anarchy".
I got to meet Ron and get his autograph at the May 2015 Phoenix Comic-con.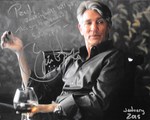 Eric Roberts
Eric Roberts is known for roles in movies like "Star 80", "The Cable Guy" and the "The Dark Knight" and in television shows like "Heroes", "The Young and the Restless", "Suits" and "Less Than Perfect".
I got to meet Eric and get his autograph at the January 2015 Hollywood Show in LA.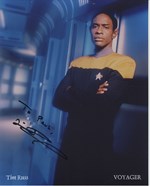 Tim Russ
Tim Russ played the Vulcan security chief Tuvok aboard the starship U.S.S. Voyager .
I got Tim's autograph at a Phoenix Comicon in Phoenix, Az.