Male Actors J-L
On this page is my collection of autographs of Male Actors who's last name starts with an J, K or L.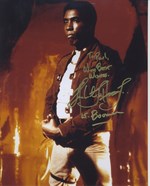 Herbert Jefferson Jr.
Herbert Jefferson Jr played Lt. Boomer who was also a Viper pilot.
I got Herbert's at Creation Entertainment show in LA.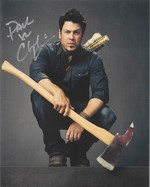 Christian Kane
Christian Kane is currently staring in TNT's "The Librarians", modeled after the movies with Noah Wyle. I know him best as 'Eliot Spencer' from the TV show "Leverage".
I got to meet Christian and get his autograph at the August 2016 WizardWorld Comic-con Chicago.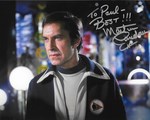 Martin Landau
Martin Landau is an Oscar award winning actor for his supporting role in the film "Ed Wood". He is pictured here as Commander John Koenig from the television show "Space: 1999".
I got to meet Mr. Landau at the Hollywood Colectors Show in Burbank, Ca.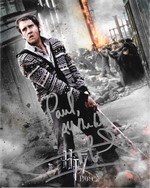 Matthew Lewis
Matthew Lewis is an actor best known for playing Neville Longbottom in the 'Harry Potter' movie series.
My friend Mark got Wallace's autograph for me at the MegaCon Tampa Bay.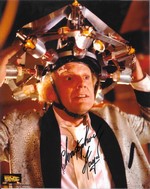 Christopher Lloyd
Christopher Lloyd has had so many great roles in his career that is hard to pick one that he is best known for. The most obvious one to me is as 'Doctor Emmett Brown' in "Back to the Future". Though you could pick 'Reverend Jim Ignatowski' from "Taxi" or 'Commander Kruge' from "Star Trek III: The Search for Spock" or 'Judge Doom' from "Who Framed Roger Rabbit" or even 'Uncle Fester' from "The Addams Family".
I got to meet Christopher and get his autograph at the May 2015 Phoenix Comic-con.