Male Actors G-I
On this page is my collection of autographs of Male Actors who's last name starts with an G, H or I.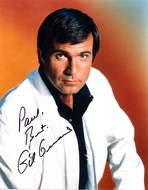 Gil Gerard
Gil Gerard is pictured here as Capt. William "Buck" Rogers from the television show "Buck Rogers in the 25th Century".
I got to meet Gil at the Phoenix Comicon in Mesa,Az.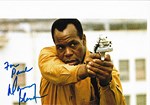 Danny Glover
Danny Glover is best known for playing Roger Murtaugh in the "Lethal Weapon" films with Mel Gibson. He has been it many movies and Tv shows including "Witness", "Silverado", "Lonesome Dove, "Angels in the Outfield", and "Brothers & Sisters".
I got to meet Danny at the January 2014 Hollywood Show. This was an interesting autograph to get. When I walked up to Danny's table, he was talking to an other fan. I picked a photograph and paid for the autograph. Danny signed the photo while still talking to the other fan. He handed me the photo and I stood there a few moments waiting to thank Danny as he continued to listening to the first fan. As I waited, a few more people walked up to the table. It looked like the conversation Danny was involved in was not going to be over anytime soon, so I turned to leave. I got about fifteen to twenty feet away when I heard my name being shouted from behind me. I turned and looked back and Danny was standing and wavying at me. Once Danny saw he got my attention he shouted "Thank You Paul". I waved back and then noticed a lot of poeple looking at me. Like I said , interesting. I am very impressed though that Danny made sure to thank me coming to see him and get an autograph.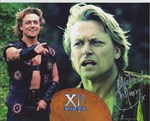 Michael Hurst
Michael Hurst played Iolaus of the TV series "Hercules: The Legendary Journeys" which aired from 1995 to 1999. Michael's charactor also appeared on "Xena: Warrior Princess".
I got to meet Michael at the Hollywood Show in Burbank, Ca.