Male Actors D-F
On this page is my collection of autographs of Male Actors who's last name starts with an D, E or F.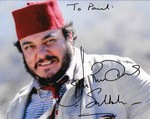 John Ryhs Davis
John Rhys-Davies is pictured here as Sallah form the "Indiana Jones" movies.
John has appeared in way to many movies and television series to list here since his start in the 1960's.
I got to meet John at the 2014 Phoenix Comicon. He really seemed to like meeting his fans. I one point, a fan gave him a battle axe to autograph and John stood up with the axe in hand and recited a few lines from the "Lord of the Ring". Everyone in line was clapping and cheering.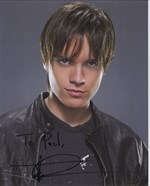 Thomas Dekker
Thomas Dekker in this photo played John Connor form "Terminator: The Sarah Connor Chronicles" which ran from 2008 to 2009.
I got to meet Thomas at the Hollywood Show in Burbank, Ca.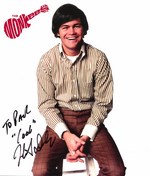 Micky Dolenz
Micky Dolenz played drums and did lead vocals for the rock/pop group the "The Monkees"
I got to meet Micky at the Hollywood Show in Burbank, Ca.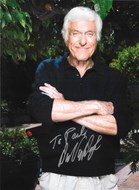 Dick Van Dyke
Dick Van Dyke is an actor who is best know for his television show "The Dick Van Dyke Show" and the movies "Mary Poppins" and "Chitty Chitty Bang Bang". One of my favorite movies of his is "Fitzwilly", a comedy with "Get Smart's" Barbara Feldon.
I got to meet Dick and get his autograph at the January 2015 Hollywood Show in LA. At 84, Dick is still very much the showman. While signing autographs, every once in while he would get up and perform songs from his past like Supercalifragilisticexpialidocious and the theme of the "The Dick Van Dyke Show", which I didn't know had words.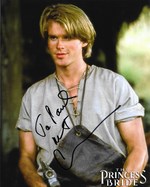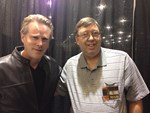 Cary Elways
Cary Elwes is pictured here from the movie he is best known for, "The Princess Bride.
Cary has also appeared in such films and TV shows as "Days of Thunder", "Robin Hood: Men in Tights", "Liar Liar" and "The X-Files.
I meet Cary at the 2014 Phoenix Comicon where I got his autograph and a picture taken with him.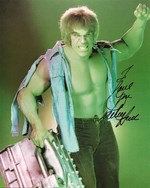 Lou Ferrigno
Lou Ferrigno Played the powerful green monster in "The Incredible Hulk" from 1978 to 1982.
I got to meet Lou at the Phoenix Comicon in Mesa, Az.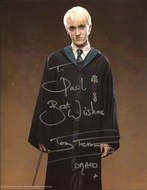 Tom Felton
Tom Felton is pictured here as his most famous charactor Draco Malfoy from the Harry Potter movie series.
I got to meet Tom at the Hollywood Show in Burbank, Ca.