Marvel Comics
Here you will find Marvel Comic autographs from various TV series.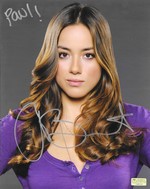 Chloe Bennet
Chloe Bennet is best know for playing 'Skye' on Marvel's "Agents of S.H.I.E.L.D.".
I got to meet Chloe and get her autograph at the March 2015 Emerald City Comicon in Seattle. I was very to get Chloe's autograph because she was not scheduled to be at the show on the day that I was there.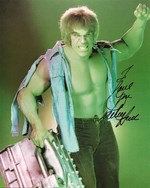 Lou Ferrigno
Lou Ferrigno Played the powerful green monster in "The Incredible Hulk" from 1978 to 1982.
I got to meet Lou at the Phoenix Comicon in Mesa, Az.