Marvel Comics
Here you will find Marvel Comic autographs separated by TV series and movies.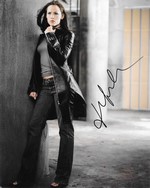 Jennifer Garner
Jennifer Garner is an actress best known for her role of Sydney Bristow in the TV show 'Alias' and Elektra Natchios in the movies 'Daredevil' and 'Elektra'. And my favorite movie of Jennifer's, '13 Going on 30'.
I got Jennifer's autograph from a trusted vendor online.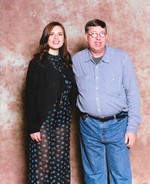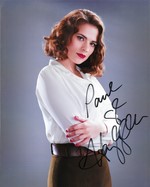 Hayley Atwell
Hayley Atwell is a British actress best known for her role of 'Agent Peggy Carter' in both Captain America movies, "Agents of Shield" and her own show "Agent Carter". She is currently in "Cinderella" as Cinderella's mother and will be appearing as 'Agent Carter' in the up coming "Avengers: Age of Ultron" and "Ant-Man".
I got to meet Hayley and get her autograph and a photo with her at the March 2015 Emerald City Comicon in Seattle.