Female Actors G-I
On this page is my collection of autographs of Male Actors who's last name starts with an G, H or I.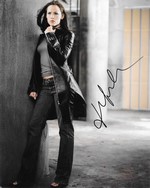 Jennifer Garner
Jennifer Garner is an actress best known for her role of Sydney Bristow in the TV show 'Alias' and Elektra Natchios in the movies 'Daredevil' and 'Elektra'. And my favorite movie of Jennifer's, '13 Going on 30'.
I got Jennifer's autograph from a trusted vendor online.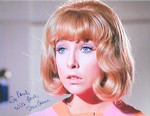 Teri Garr
Teri Garr is an actress best known for her roles in such movies as "Young Frankenstein", "Oh, God!", "Close Encounters of the Third Kind" and "Mr. Mom". Teri also appeared in many TV shows like "McCloud", "M*A*S*H" and "Star Trek".
Teri's autograph is the second one that I have recieved though the mail. It was very kind of her to sign for me.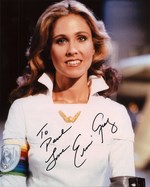 Erin Gray
Erin Gray played 'Wilma Deering' in the TV series " Buck Rogers in the 25th Century" from 1979 to 1981.
I got to meet Erin at the Phoenix Comicon.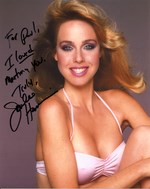 Jenilee Harrison
Jenilee Harrison is best know for playing 'Jamie Ewing Barnes' on the TV series "Dallas". Jenilee has also appeared in the TV show "Three's Company", and the movie "Tank".
I got to meet Jenilee at the Hollywood Show in Burbank, Ca.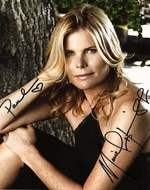 Mariel Hemingway
Mariel Hemingway is best known for her roles in the movies "Manhattan", "Personal Best" and "Star 80". Super hero movie fans know her as 'Lacy Warfield' in "Superman IV: The Quest for Peace".
I got to meet Mariel at the Hollywood Show in Burbank, Ca.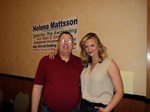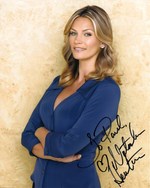 Natasha Henstridge
Natasha Henstridge is best known for her roles in "Species" and "The Whole Nine Yards".
I got to meet Natasha at the Hollywood Show in Burbank, Ca. She was very nice, even though there was a little mix up. I pick out a picture for her to autograph and then asked if I could also get a picture taken with her. Natasha asked me for my name to personalize the autograph and I told her Paul. She then asked me to come around the table to get a picture with her. I handed my camera to her handler and we posed for the picture you see to the right. However when I handed my camera to her handler I must have accidentlly switched the camera from photo to video. After a few seconds he notice he was taking video and showed me. Natasha made a joke that she "charges more for video", but I reset the camera and got the picture. But there's more, when I looked for the autograph photo, I didn't see it on the table. Natasha pointed out my autograph photo, however it was made out to BOB . I told her my name was not Bob but Paul. Now Natasha seem a little embarressed, she turned to her handler and asked him how times had she written the wrong name that mouring. She apologized and autographed a new picture for me. So this is an autograph that I will remember. Again Natasha was very nice though all of this.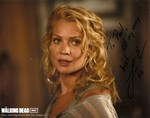 Laurie Holden
Laurie Holden is best known for playing 'Andrea' on the TV show "The Walking Dead" and 'Marita Covarrubias' on "The X-Files". Most recently Christina has stared in the Anchorman movie series.
I got to meet Laurie at the 2013 Phoenix Comicon.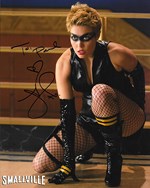 Alaina Huffman
Alaina Huffman has made quite a name for herself by appearing or staring in many sci-fi shows like "Painkiller Jane", "Smallville" as the Black Canary, "SGU Stargate Universe" as Lt. Tamara Johansen, and most resently on "Supernatural".
I got to meet Alaina at the January 2014 Hollywood Show.