Firefly, a series from Joss Whedon, was one of the best show I have ever watched. Unfortunetly I did not find out about it until it came out on dvd because Fox canceled it after only about 10 episodes. The dvd set included a few episodes that were never aired.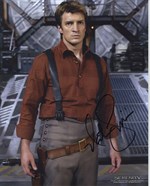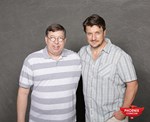 Nathan Fillion
Nathan Fillion plays Captain Malcolm 'Mal' Reynolds of the Firefly class spaceship, Serenity.
Nathan Fillion currently stars on the TV show "Castle".
I was able to get his autograph at the Creation Entertainment Show in Burbank.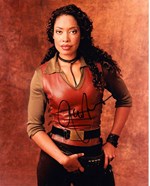 Gina Torres
Gina Torres played Zoë Washburne. Mal's first office and the wife of Wash, the ships pilot
I also got Gina's autograph at a Creation Entertainment show in LA.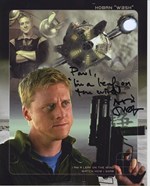 Alan Tudyk
Alan Tudyk played the role of Hoban 'Wash' Washburne, teh ships pilot.
I meet and got Alan's autograph at the same show as Nathan Fillion.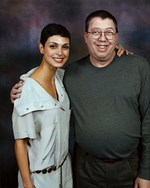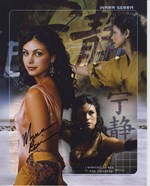 Morena Baccarin
The beautiful Morena Baccarin played Inara Serra, a companion, think geisha.
Morena is currently in the TV show "Homealnd".
I meet Morena at the same show as Nathan and Alan. It was a really good show.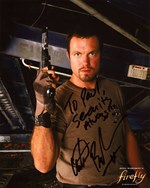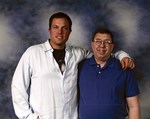 Adam Baldwin
Adam Baldwin plays Jayne Cobb the most ruthless member of the crew.
Adam first appeared in the movie "My Bodyguard" and has been in many movies and television shows since. Some of his movies include "D.C. Cab", "Full Metal Jacket", "Next of Kin" and of course "Serenity". On TV Adam has had reacurring roles in "The X-Files", "Angel", "Firefly" and "Chuck".
I have been lucky to meet Adam several times. I've have gotten two autographs, one for "Firefly" and one for "Chuck", and two photographs.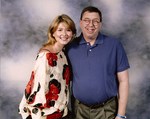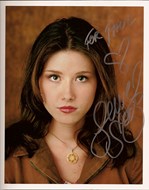 Jewel Staite
Jewel Staite plays Kaylee Frye, the transport ship, Serenity's, mechanic.
I got Jewel's autograph at a small comic con in Phoenix. It was one of the first con's that I have ever been to and I was very nervous asking for her autograph. I did get a chance to meet her again a couple years later at a Firefly convention where I was able to get a picture taken with her.
Jewel has appeared in many TV shows. She is best known for "Firefly and Stargate Atlantis.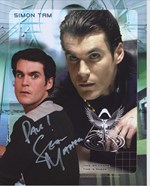 Sean Maher
Sean Maher plays Simon Tam the ships doctor and brother of "River" on the show .
I meet Sean at a Firefly convention in Burbank, Ca. where I got his autograph.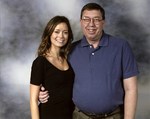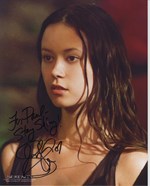 Summer Glau
Summer Glau plays River Tam, Dr. Simon Tam's sister.
I meet Summer at a Firefly convention in Burbank, Ca. I got an autograph and my picture taken with her.
I believe Summer Glau to be the Queen of Sci-Fi. Not only was she in "Firefly" but she has also stared in "Terminator: The Sarah Connor Chronicles", "Dollhouse", "The Cape", "Alphas" and is currently on "Arrow?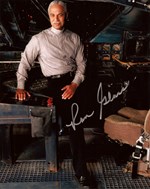 Ron Glass
Ron Glass plays Shepherd Derrial Book on the show .
I also got Ron's autograph at a Firefly convention in Burbank.
Besides "Firefly" Ron Glass is best known for the 1970's TV show "Barney Miller".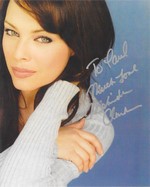 Melinda Clarke
Melinda Clarke is probably best know to sci-fi fans for playing ' Nandi' on "Firefly". Besides "Firefly" Melanda has appeared in many shows including "The O.C.", "Nikita" and another of my favorites "Chuck".
I got Melinda's autograph at the Wizard World Comic Con in Anahiem, Ca.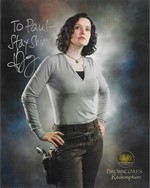 Heather Fagan
Heather Fagan played the lead role of 'Capt. Laura Matthews' in the fan made movie "Browncoats: Redemption".
I also got Heather's autograph at the Phoenix Comicon in Phoenix, Az.