Deep Space 9
On this page is my collection of autographs from the Star Trek: Deep Space Nine TV series that aired between 1993 and 1999.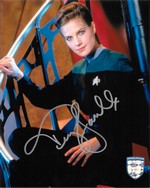 Terry Farrell
Terry Farrell is an actress best known for her role of Jadzia Dax in 'Star Trek: Deep Space Nine' and Reggie in 'Becker'.
I got Terry's autograph from a trusted vendor online.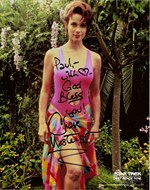 Chase Masterson
Chase Masterson played Leeta, a Bajoran dabo girl who works at Quark's bar on Deep Space 9.
I got Chase's autograph at a Creation Entertainment Show in Phoenix, Az.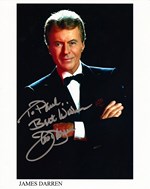 James Darren
James Darren played Vic Fontaine, a singer and entertainer hologram on Deep Space 9.
I got James autograph at a Hollwood Collectors Show in Burbank, Ca.