Chuck Autographs
On this page is my collection of autographs from the TV series "Chuck" that aired between 2007 and 2012.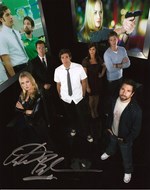 Chuck Cast Photo
So far, I have only one autograph of this cast photo from Chuck, and that is of actor Adam Baldwin.
Adam played John Casey, a NSA agent sent to protect Chuck.
I have gotten to meet Adam several times. He is fan favorite, always drawing hugh crowds. You can find other photos and autographs of Adam in the Firefly and Misc sections on this site.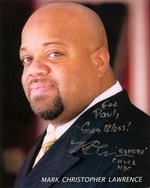 Mark Christopher Lawrence
Mark Christopher Lawrence plays the role of the Burbank Buy More store manager Big Mike.
I meet Mark at the Anaheim Wizard World Comic Con in April of 2010.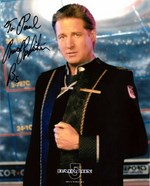 Bruce Boxlietner
Bruce Boxlietner played a reoccuring role of Devon 'Captain Awesome' Woodcomb's father Dr. Woody Woodcomb.
Bruce Boxlietner is most know for his roles in the movie Tron and Tv series Babylon 5 as in the photo the left.
I got Bruce's autograph at the Phoenix Comicon in May of 2010.