Birds of Prey Autographs
On this page is my collection of autographs from the "Birds of Prey" TV series of 2002-2003.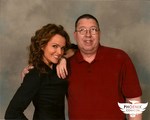 Dina Meyer
Dina Meyer is best known for her roles in sci-fi movies and TV shows like "Johnny Mnemonic", "Starship Troopers", "Birds of Prey" and the "Saw" movies series.
I got to meet Dina at the 2013 Phoenix Comicon. She was very nice and seemed truely interested in meeting her fans. The picture of the two of us to the left was the second pic taken because she didn't like her pose in the first one.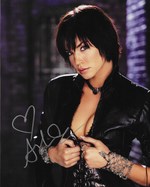 Ashley Scott
Ashley Scott is pictured here as 'Helena Kyle a.k.a the Huntress' from the TV show "Birds of Prey". She can also be seen in the TV shows "Dark Angel" and "Jericho" and the movies "A.I. Artificial Intelligence" and "Into the Blue".
I got this autograph from a vendor at the Hollywood show in January 2015.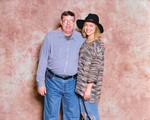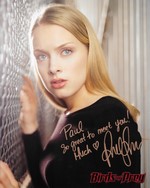 Rachel Skarsten
Rachel Skarsten is currectly appearing on the Syfy TV show "Lostgirl". I know her from the TV show "Birds of Prey"
I got to meet Rachel and get her autograph and a photo with her at the March 2015 Emerald City Comicon in Seattle.