Batman Autographs
On this page is my collection of autographs from the Batman TV series of the 1960's.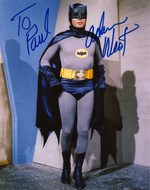 Adam West
Adam West played the title character, also know as Bruce Wayne, in the 1960's television show "Batman". Recently Adam has lent his voice as Mayor Adam West on the cartoon show "Family Guy".
I got Adam's autograph at the Wizard World's Anahiem Comicon in April of 2010.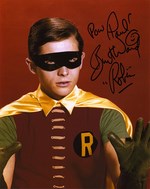 Burt Ward
Burt Ward played Batman's sidekick "Robin/Dick Grayson".
I also got Burt's autograph at the Wizard World's Anahiem Comicon in April of 2010. Burt Ward was the first autograph that I got who would only sign if it was personalized. A lot of celebrities do this now because too many people will turn around and sell the autograph.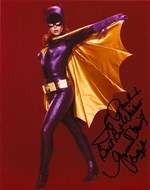 Yvonne Craig
Yvonne Craig played the role of Batgirl on the "Batman" TV Show. Besides "Batman" she also play roles on many show and movies including "Star Trek", "In Like Flint" and "Kissin' Cousins" with Elvis Presley.
Yvonne, who's autograph I also got at the Anahiem Comicon, was very nice to meet. She talked myself and another fan for at least 10 minutes telling us stories about filming "Batman".
Julie Newmar
Julie Newmar was the first of three women who played Catwoman on the 60's TV show "Batman". Like Yvonne Craig, Julie has appeared in many TV shows and movies.
I also got Julie's autograph at the Anahiem Comicon. She was really sweet and seemed to genuinely enjoy meeting and talking to the fans.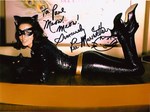 Lee Meriwether
Lee Meriwether is the second woman to play Catwoman, though she was in the 1966 "Batman" movie and not the TV show. Miss Meriwether is best known for her role as Betty Jones on the TV show "Barnaby Jones" She also was Miss America 1955.
I got Lee Meriwether's Autograph at the Hollywood Show in Burbank, Ca. in February 2010. Like the other woman from the Batman show, Miss Meriwether was really nice to meet. The thing that struck me most was how beautiful she was.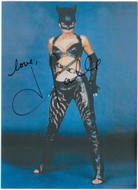 Halle Barry
Halle Barry is an actress best known for her roles in movies such as the "X-Men" series and Jame Bond's "Die Another Day". Halle has also appeared in many movies and television shows in her career including "Executive Decision", "Swordfish" and "Extant". This autograph picture is from her role as 'Catwomen'.
I got Halle's autograph from a trusted vendor online.