Basketball
On this page is my collection of autographs of Basketball players.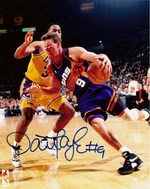 Dan Majerle
Dan Majerle played basketball in the NBA for 14 years. He mostly played for the Phoenix Suns but also played in Cleveland and Miami. Dan was a big part of the team that lead the Suns to the NBA Finals in 1993.
Dan is currently in his second season as head coach of the Grand Canyon University basketball team.
I got to meet Dan at a trading card show in Phoenix Az.