Baseball
On this page is my collection of autographs of baseball players.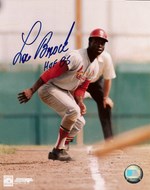 Lou Brock
Lou Brock is a 1985 Hall of Fame baseball player. He spent 16 years playing left field for the St. Louis Cardinals (1964-1979) wear he holds many baseball records including the most stolen bases in the national league.
I got to meet Lou Brock at a trading card show in Phoenix Az.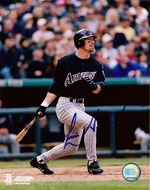 Luis Gonzalez
Luis Gonzalez played for six teams in his career but is probably best known for his time with the Arizona Diamondbacks from 1999 to 2006. Luis is most famous for the 2001 World Series against the New York Yankees. It was the bottom of the 9th inning of game 7 with bases loaded and one out, Luis came to the plate and hit the game-winning bloop single into left field off of Yankees great Mariano Rivera.
I got to meet Luis Gonzalez at a trading card show in Phoenix Az.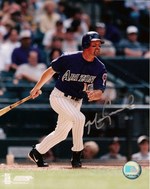 Mark Grace
Mark Grace played baseball sixteen years for two teams, the Chicago Cubs and the Arizona Diamondbacks. Mark was known for his defensive play having won four gold gloves and had a lifetime batting average of .303.
I got to meet Mark at a trading card show in Phoenix Az.