Andromeda Autographs
On this page is my collection of autographs from the Andromeda TV series that aired between 2000 and 2005.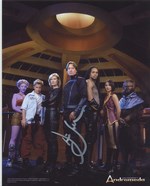 Andromeda Cast
Andromeda is a show created from the works of Gene Roddenberry of Star Trek fame.
I got this cast photo autographed at the Hollywood Show in Burbank, Ca. by Kevin Sorbo. Someday I hope to get the rest of the crew.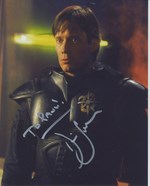 Kevin Sorbo
Kevin Sorbo played the lead character Dylan Hunt, captain of the Systems Commonwealth ship the Andromeda Ascendant.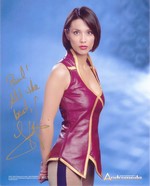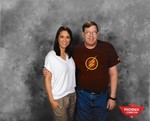 Lexa Doig
Lexa Doig is best known for playing 'Rommie', the Andromeda Ascendant in avatar form, on the television show "Andromeda". Besides "Andromeda", Lexa has appeared in many sci-fi shows including "The 4400", "Stargate SG-1", "V" and "Continuum".
I got to meet Lexa and get her autograph and a photo op at the May 2015 Phoenix Comic-con.